CNMI's State Longitudinal Data System
The purpose of system design is to create a technical solution that satisfies business needs and functional requirements, aligns with the data system's overarching purpose and vision, and includes the implementation and ongoing maintenance of the system.
The CNMI Public School System (PSS) is a recipient of the 2019 State Longitudinal Data System (SLDS) grant and has since been actively working to develop a comprehensive P-12 SLDS. The figure below illustrates the CNMI's centralized P-12 SLDS data system model, consolidating several data systems on a secured portal built on a business intelligence platform.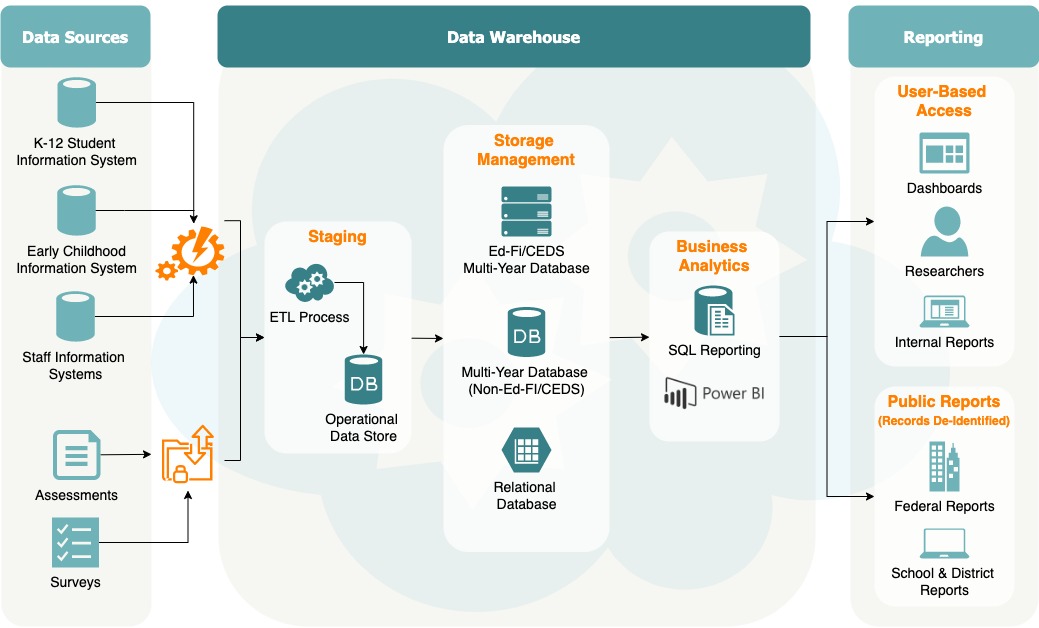 The CNMI SLDS has adopted the Ed-Fi Data Standards, which are the rules for collecting, managing, and organizing education data. The Ed-Fi standard is CEDS-aligned, enabling interoperability among secure data systems, and contains a unifying data model designed to empower the functionality of the SLDS. The Ed-Fi's Operational Data Store (ODS) allows the CNMI SLDS to pull information from several sources into a single database using an API that allows the business intelligence platform to create, read, and update data on pre-formatted and ad-hoc reports. Through the CNMI SLDS Program's access controls and maintenance of privacy standards, various stakeholders such as administrators, education policy-makers, and external researchers can access these reports.